Laila Danielsen, CEO of Elliptic Labs, Named Finalist for 2018 Stevie
®

Awards Honoring Women Business Leaders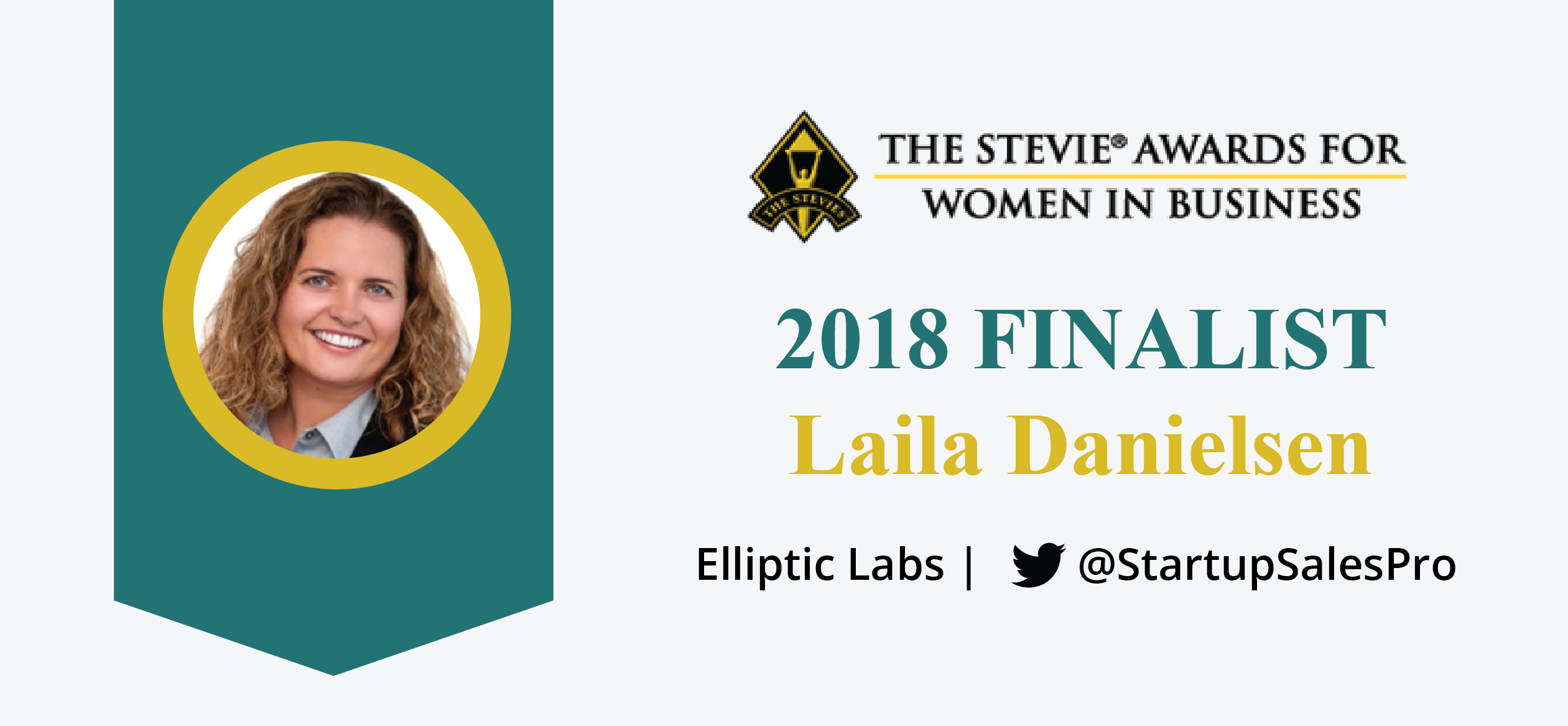 San Francisco, Calif. — Elliptic Labs CEO Laila Danielsen was just named a finalist in the 15th annual Stevie® Awards for Women in Business, the world's top honors for women entrepreneurs, executives, employees and the organizations they run. This is the second year that Danielsen was recognized in the competition, having been selected as a "female entrepreneur of the year" in 2017. This year, more than 1,550 nominations from 33 nations were considered for the award. The winners for 2018 will be announced November 16.
Danielsen's strong leadership and entrepreneurial approach to business have catapulted Elliptic Labs onto the world stage, where its AI Virtual Smart Sensors™ have been transforming the consumer electronics market. For example, the relationship she first developed with giant Chinese electronics manufacturer Xiaomi — called "the Apple of China" — in 2016 has continued to thrive. Seeking to reinvent its smartphones, the company used Elliptic's INNER BEAUTY® Virtual Proximity Sensor™ to replace hardware on its phone. This enabled the flagship Xiaomi Mi Mix to become the first bezel-less phone, kicking off the industry trend for full-screen smartphones. Elliptic products have resided within Xiaomi's Mi Mix phones since then.
In the past year, Danielsen's vision has pushed Elliptic into a series of significant undertakings and achievements. For example, major Asian phone manufacturer Smartisan chose Elliptic products for its much-anticipated Nut 3 smartphone. Besides a full-screen display, the phone makes possible gesture control and presence detection and the phone continuously, over time, learns and improves as users interact with it.
Danielsen kicked off the next phase of Elliptic's growth this year when she applied the company's technology to the growing market for smart assistants via the new INNER REFLECTION™ AI Virtual Presence Sensor™. Adding to the standard voice interface found in products such as smart speakers, this sensor can give smart speakers human presence detection and can also let users control the speaker through simple, intuitive hand gestures.
In another key move, Danielsen led Elliptic into a partnership with Qualcomm in which Elliptic's touch-free ultrasound gesture technology began running on the Qualcomm® Snapdragon™ 845 Mobile Platform using the Snapdragon Neural Processing Engine (NPE). This meant that any OEM or developer could rapidly deliver touch-free gestures that are natural extensions of human interaction.
Since 2014, Danielsen has expanded the company to China, Korea and the United States in order to prepare Elliptic for significant global growth.
"I'm honored to be recognized again by the Stevie Awards, particularly given the importance of encouraging innovation and pioneering new capabilities that delight end users," Danielsen said. "I hope to continue to improve the way we interact with devices by creating natural, easy-to-use interfaces that make the products we use every day smarter and more efficient."
INNER BEAUTY is a registered trademark of Elliptic Labs.
INNER REFLECTION, AI Virtual Smart Sensor, Virtual Proximity Sensor, AI Virtual Proximity Sensor, Virtual Presence Sensor, and AI Virtual Presence Sensor are trademarks of Elliptic Labs.
All other trademarks or service markets are the responsibility of their respective organizations.
About Elliptic Labs
Elliptic Labs is the world leader in AI virtual sensors for the smartphone, IoT, and automotive industries. We transform products using machine learning and/or sensor fusion to combine ultrasound with data from existing device sensors to produce smarter, greener, safer, and more intuitive devices. This allows us to eliminate the need for infrared, radar, and time of flight hardware sensors, saving OEMs components costs and freeing up design space. Our AI Virtual Smart Sensor Platform™ provides precise presence sensing and enables touch-free gesture controls such as scroll, approach, and double-tap — software which is now deployed in over 30 million devices. We are a privately held company headquartered in Norway with offices in the United States, Korea, Japan, and China.
PR Contacts:
Aoife Kimber
KimberPR for Elliptic Labs
[email protected]
1 650 773 7288
About the Stevie Awards
Stevie Awards are conferred in seven programs: the Asia-Pacific Stevie Awards, the German Stevie Awards, The American Business Awards, The International Business Awards, the Stevie Awards for Great Employers, the Stevie Awards for Women in Business and the Stevie Awards for Sales & Customer Service. Stevie Awards competitions receive more than 10,000 entries each year from organizations in more than 60 nations. Honoring organizations of all types and sizes and the people behind them, the Stevies recognize outstanding performances in the workplace worldwide. Learn more about the Stevie Awards at www.StevieAwards.com.