CEATEC 2013 Innovation Award for Game-Changing SMD Ultrasonic Sensor Technology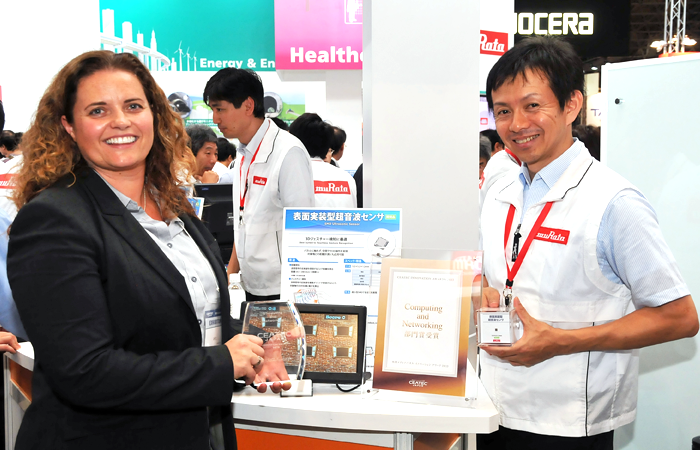 Touchless gesturing solution gives portable device manufacturers an easy, cost-effective way to include technology that responds to natural hand movements anywhere on the device screen.
Tokyo, Japan and Palo Alto, CA
— Elliptic Labs, the leader in ultrasonic touchless gesturing, today announced it won the CEATEC 2013 Innovation Award in the Computing and Networking category for its ultrasonic touchless gesturing solution used in combination with the SMD Ultrasonic Sensor by Murata Manufacturing Co., LTD, a market leader of ultrasonic transducers. The solution won in its category because it gives portable device manufacturers a way to include technology that responds to natural hand movements anywhere on the device screen, while using low power and delivering high resolution. This combination makes it ideal for interacting with popular applications, such as games like Fruit Ninja, on smartphones, laptops and tablets.
U.S. Journalists Pick Winners Based on Innovation and Market Influence
"The Elliptic Labs/Murata solution changes the way people interact with their smartphones. You can change screens and operate your tablet without touching the screen," said Michael Kanellos, vice president and technology analyst, Eastwick. "Unlike other camera/3D optical technologies, the Elliptic Labs/Murata solution uses a fraction of the power and makes it easy for users to use natural hand movements, on the sides and all around the screen of a device."
"This award confirms that ultrasonic touchless gesturing technology is not just a sci-fi myth. There are definite advantages for manufacturers and consumers," said Laila Danielsen, CEO, Elliptic Labs. "The technology uses a fraction of the power that current camera, image-based gesture recognition systems use, which makes it attractive for manufacturers of battery-powered portable devices. Plus, the solution's high resolution makes it ideal for applications that require a wide range of movements across the device screen."
"Our SMD Ultrasonic Transducer is the world's first and smallest ultrasonic device, which is the best fit for touchless motion detection. Collaboration with Elliptic Labs gives us a strong footprint on providing attractive solutions to the world," said Satoshi Sonoda, Senior Vice President, Murata Manufacturing Co., Ltd.
An independent panel of journalists working in the information technology and consumer electronics fields selected CEATEC award winners based on their excellence in innovation and potential influence on the global market.
About Elliptic Labs
Elliptic Labs is a global enterprise targeting the smartphone, laptop, IoT, and automotive markets. Founded in 2006 as a research spin-off from Norway's Oslo University, the company's patented software uses AI, ultrasound and sensor-fusion to create Virtual Smart Sensors that deliver intuitive 3D gesture, proximity, presence, breathing and heartbeat detection experiences. Its scalable AI Virtual Smart Sensor Platform™ creates software-only sensors that are sustainable, human-friendly and already deployed in hundreds of millions of devices around the world. Elliptic Labs is the only software company that has delivered detection capabilities using AI software, ultrasound, and sensor-fusion deployed at scale. The company is listed on the Oslo Børs. 
Elliptic Labs is headquartered in Norway with presence in the USA, China, South-Korea, Taiwan, and Japan. Its technology and IP are developed in Norway and are solely owned by the company.
PR Contacts:
Patrick Tsui
[email protected]
Investor Relations:
Lars Holmøy
[email protected]