Elliptic Labs Environmentally-Friendly AI Virtual Smart Sensor™ INNER BEAUTY
®

III Enables Xiaomi Mi Mix 3 5G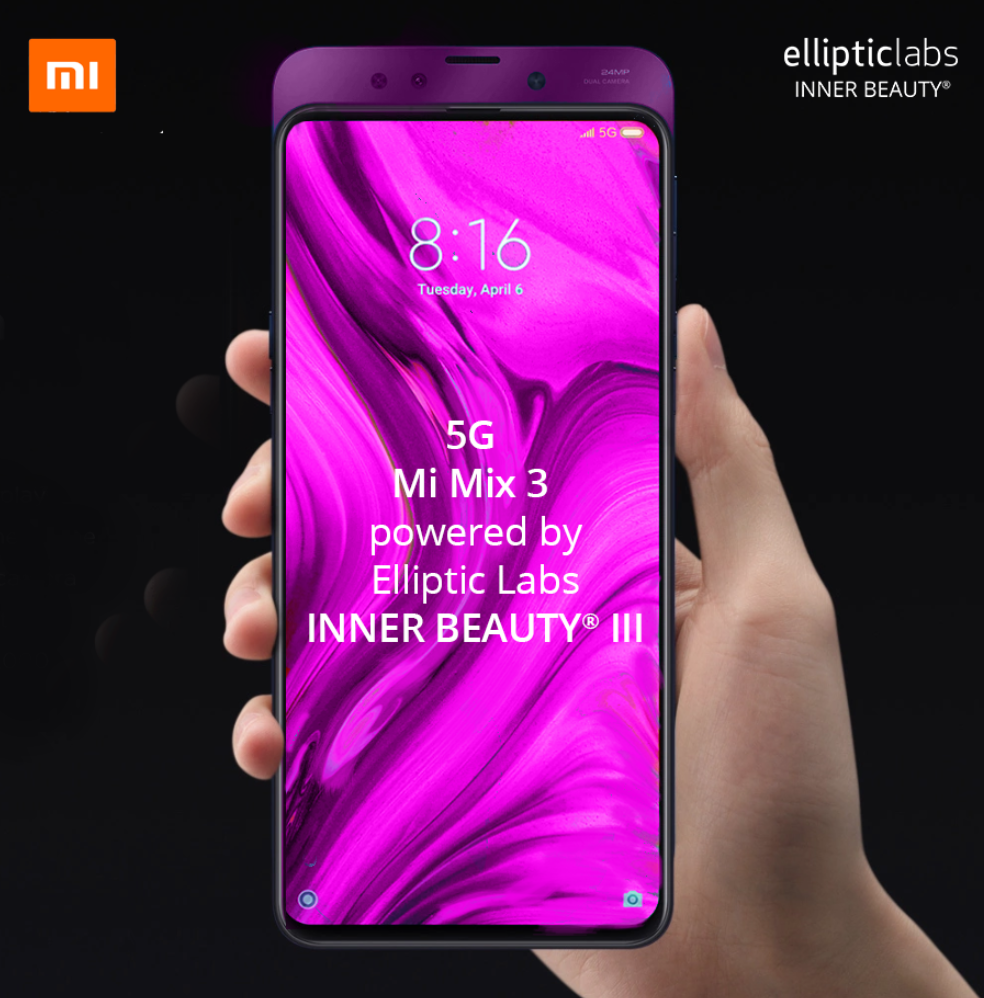 Available in Sunrise's Swiss Stores May 2, 2019
Oslo, Norway and Beijing, China
— Since 2016, one of the Mi Mix's most celebrated features has been the nearly bezel-less display, which is empowered by Elliptic Labs INNER BEAUTY III. With sustainability in mind, Virtual Proximity Sensor™ INNER BEAUTY
®
replaces a phone's traditional IR hardware proximity sensor with state-of-the-art software embedded with machine learning. This enables the removal of space-hogging hardware while simultaneously boosting detection accuracy and enhancing user experience.
Continuing their success with the Mix 3 design, Xiaomi has integrated the Snapdragon 855 chip with the Qualcomm X50 modem to provide this 5G version of their popular phone. This 5G version is available today to consumers in Switzerland, on the Sunrise network. It is one of the first commercially available 5G smartphones in the world. 5G's superior speed and performance will unlock coveted features such as Elliptic Labs INNER MAGIC™ Virtual Gesture Sensor™ for contextual and intuitive gesture-based user interfaces.
The global rollout for the Mi Mix 3 5G empowered by Elliptic Labs' INNER BEAUTY III Virtual Proximity Sensor will be happening soon.
INNER BEAUTY is a registered trademark of Elliptic Labs.
INNER MAGIC, AI Virtual Smart Sensor, Virtual Proximity Sensor, and Virtual Gesture Sensor are trademarks of Elliptic Labs.
All other trademarks or service markets are the responsibility of their respective organizations.
About Elliptic Labs
Elliptic Labs is a global enterprise targeting the smartphone, laptop, IoT, and automotive markets. Founded in 2006 as a research spin-off from Norway's Oslo University, the company's patented AI software combines ultrasound and sensor-fusion algorithms to deliver intuitive 3D gesture, proximity, and presence sensing experiences. Its scalable AI Virtual Smart Sensor Platform™ creates software-only sensors that are sustainable, eco-friendly, and already deployed in hundreds of millions of devices around the world. Elliptic Labs is the only software company that has delivered detection capabilities using AI software, ultrasound, and sensor-fusion deployed at scale. It filed its IPO with the Euronext Growth Market in October 2020.
Elliptic Labs is headquartered in Norway with presence in the USA, China, South-Korea, Taiwan, and Japan. Its technology and IP are developed in Norway and are solely owned by the company.
PR Contacts:
Patrick Tsui
Investor Relations:
Lars Holmøy