Elliptic Labs Launches Two New Design Wins with Xiaomi Mi 10 Youth and Mi 10 Lite Smartphones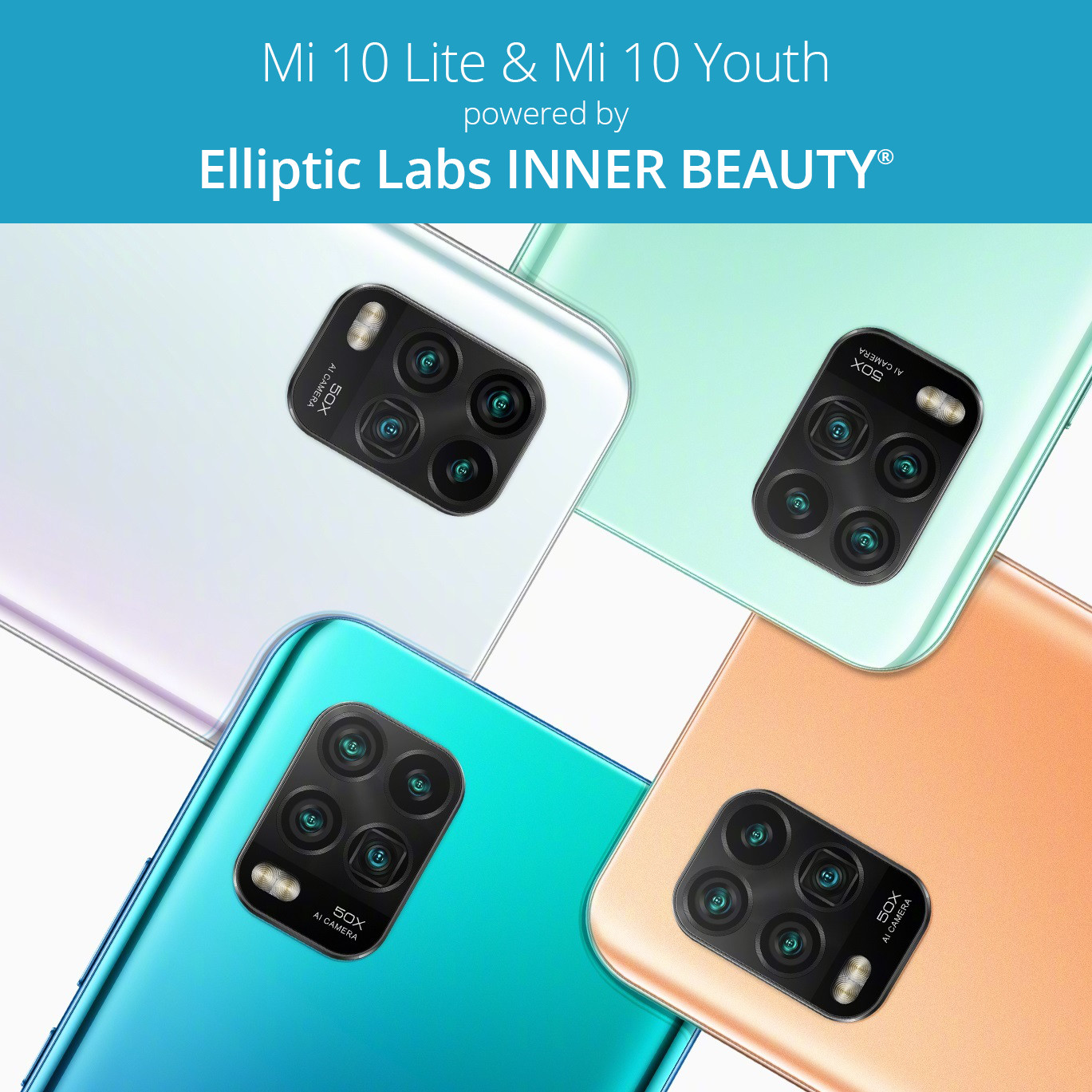 Oslo, Norway
— Elliptic Labs, a global AI software company, and Xiaomi, the world's third largest smartphone manufacturer, have collaborated again with today's announcement of the Mi 10 Youth and Mi 10 Lite smartphones, the latest Xiaomi smartphones to feature Elliptic Labs' INNER BEAUTY
®
AI Virtual Proximity Sensor™. The Mi 10 Youth and Mi 10 Lite, follow ups to the critically successful Mi 10 flagship smartphone launched earlier this year, is the most recent example of Xiaomi smartphones utilizing Elliptic's Virtual Smart Sensors™.  Elliptic had
announced a contract win for these design wins previously
, making details available today.
A leader in smartphone design, Xiaomi has partnered with Elliptic since 2016, entrusting Elliptic's AI Virtual Smart Sensor Platform™ to help create the original Mi Mix smartphone. The initial Mi Mix smartphone revolutionized smartphones with its bezel-less design, ushering in a new era of smartphone aesthetics with Elliptic's INNER BEAUTY. Along with replacing traditional hardware infrared sensors and reusing smartphones' existing speakers and microphones for proximity detection, the AI Virtual Smart Sensor Platform opens up new experiences for smartphone users like touchless gesture control and presence detection.
"We look forward to continue driving value and innovation with a leader like Xiaomi into the future," explained Laila Danielsen, CEO of Elliptic. "With our Virtual Smart Sensor Platform™, adding critical experiences while eliminating redundant hardware sensors and lowering costs will only benefit smartphone users."
INNER BEAUTY is a registered trademark of Elliptic Labs.
AI Virtual Proximity Sensor Virtual Smart Sensors, AI Virtual Smart Sensor Platform, and Virtual Smart Sensor Platform are trademarks of Elliptic Labs.
All other trademarks or service markets are the responsibility of their respective organizations.
About Elliptic Labs
Elliptic Labs is a global enterprise targeting the smartphone, laptop, IoT, and automotive markets. Founded in 2006 as a research spin-off from Norway's Oslo University, the company's patented AI software combines ultrasound and sensor-fusion algorithms to deliver intuitive 3D gesture, proximity, and presence sensing experiences. Its scalable AI Virtual Smart Sensor Platform™ creates software-only sensors that are sustainable, eco-friendly, and already deployed in hundreds of millions of devices around the world. Elliptic Labs is the only software company that has delivered detection capabilities using AI software, ultrasound, and sensor-fusion deployed at scale. It filed its IPO with the Euronext Growth Market in October 2020.
Elliptic Labs is headquartered in Norway with presence in the USA, China, South-Korea, Taiwan, and Japan. Its technology and IP are developed in Norway and are solely owned by the company.
PR Contacts:
Patrick Tsui
Investor Relations:
Lars Holmøy